Gun street art graffiti in Dorchester altered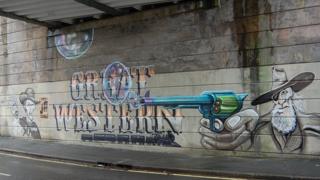 Street art that was criticised for depicting a gun has been altered by the artist, despite support for it to be kept as it was.
The wall under a railway bridge in Dorchester was provided by West Dorset District Council's Good Graffiti scheme as a way to encourage young artists.
But the western movie-style cowboy's revolver image generated complaints.
Artist Peter Sheridan has since voluntarily altered the work, turning the firearm into a bubble gun.
Project organiser and chairman of West Dorset District Council, Gillian Summers, said she intended to recommend the artwork should remain after a Facebook campaign page supporting it attracted more than 2,700 members.
She said: "Although I did not feel that any alterations were necessary, I hope the changes made will make some local people feel more comfortable with the image."
In a post on Facebook, Mr Sheridan said he made the alterations because he did not want a council vote to dictate what he had to do.