Portland residents on flood alert as another storm arrives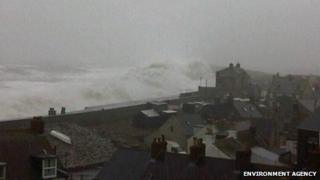 Residents in Chiswell in the Isle of Portland have been told to stay upstairs and be ready to evacuate as storms continue.
The Environment Agency (EA) has issued a severe flood warning for the area.
An army compound has been set up near the village with about 30 troops, five bulldozers and three excavators to shore up sea defences.
Wind gusts were expected to reach 80mph at times with a tidal surge expected at 02:00 GMT on Sunday.
The severe flood warning - which means "danger to life" - will remain in force throughout Saturday and overnight, the EA said.
Jackie Breakspear, of the Cove House Inn said: "The wind is ferocious; it's almost knocking people over.
"Police are trying to keep the public away."
Large waves
The EA said there was a risk of large waves coming over the sea wall, carrying shingle from the beach, with wave heights of between eight to nine metres anticipated.
A spokesman for the EA said: "The previous storms have caused some damage to the flood defences and reduced the profile of the beach which may increase the risk of flooding."
Simon Parker, Dorset County Council's emergency planning officer, also issued a warning to people to stay away from watching the waves on the seafront during the storms and high tides.
He said: "We can't stress the danger people are putting themselves, and rescuers, in. For their own safety, we are asking people to comply with warning signs and officials' advice."
Properties on the peninsular narrowly escaped major flooding during adverse weather earlier this week.
Last month storms caused the flood sirens to sound for the first time in 30 years.
Elsewhere, Brownsea Island - which was due to open for the first of its weekend winter openings - has been closed because of the gales, the National Trust said.