Storms leaves heart-shaped hole in Sandbanks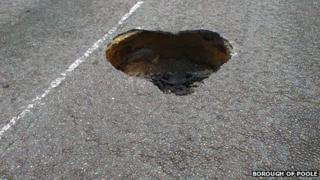 A section of a coastal road in Sandbanks, Poole, has collapsed revealing a heart-shaped hole.
The large hole developed in Chaddesley Glen on Friday night following weeks of heavy rain and strong winds.
Borough of Poole Council said it had closed the road to through traffic following the discovery.
Sandbanks is one of the most expensive addresses in England, with houses costing an average of £1.4m according to the Land Registry.
Well-known residents include football managers Harry Redknapp and Graeme Souness.