Chesil Beach birds: Storms leave over 100 dead or distressed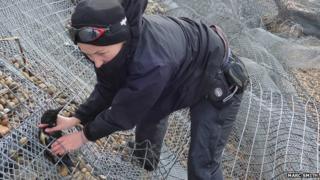 Over 100 dead or distressed birds have been washed up on Chesil Beach by the "recent severe storms", Dorset Wildlife Trust has said.
Birds including razorbills, guillemots, kittiwakes and puffins have been found, some of which were covered in oil.
Fine Foundation Chesil Beach Centre Officer Marc Smith said that while birds usually washed up in winter, the weather had "made life much harder".
He added that the deaths were "an inevitable consequence" of the storms.
He said those birds that had been found alive were "tired and hungry because they are weak from fighting against the harsh conditions".
He added that the deaths were an "even bigger blow after the huge loss during the PIB [polyisobutene] incident last year, where over 1,000 sea birds were found dead on the South Coast, covered in a deadly sticky glue substance".
A Dorset Wildlife Trust spokesman said the public should not touch dead or injured birds and should instead contact the Chesil Beach Centre or the RSPCA.