Horses rescued from flooded field in Christchurch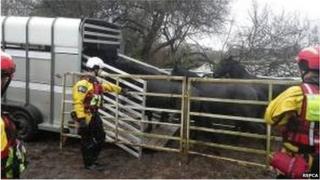 Eighteen horses stranded by rising floodwater in fields in Christchurch in Dorset have been rescued.
The RSPCA used ropes to form a channel through the water off Stony Lane and guided the horses into a corral.
Most of the water was about 0.6m (2ft) deep, but there were deeper places where the horses had to swim for up to 6m (20ft), the charity said.
The operation follows a rescue of seven horses from the same area early last month.
Seventeen officers, two chief inspectors and an equine officer handled the rescue operation on Thursday morning.
The horses were loaded on to trailers and their owner has taken them to another area.
'Home and dry'
Four other horses nearby were also loaded on to trailers in a separate rescue by the RSPCA and World Horse Welfare, which has taken them into care.
RSPCA inspector Jason Finch, who co-ordinated the team, said: "We had been taking food out to these horses and have been monitoring them since the area flooded, as they were healthy and we hoped that flood waters would recede.
"However, it became clear that, with the worsening weather and further rain forecast, we had to take the decision to move these horses.
"The horses did not want to go through the deeper waters and we had to urge them on.
"The actual rescue took about two hours as we had to be extremely careful to minimise the risk to the animals as well as to ourselves.
"We're pleased that the rescue was successful and that the horses are home and dry."
He said the RSPCA has arranged to follow up on their progress.