Druitt Gardens protected trees: Campaigners condemn felling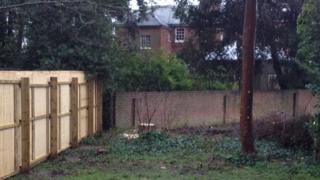 Campaigners who fought to earn protection for seven trees in a garden of rest have said they are "furious" after four were cut down.
Christchurch Borough Council granted protection orders in January to trees in the town's Druitt Gardens after protests to a plan to fell them.
However, the council felled two trees in an "emergency action" on Wednesday after they were damaged by contactors.
An inspection on Friday led to two further trees being felled.
Campaign group Trees for Dorset said it was "absolutely disgusted".
The council said contractors at the nearby Cornfactor site had accidentally damaged roots while removing soil.
Head of economy and growth James Hassett, said that, as a result, the trees were "deemed to be dangerous by the council's tree officer".
"Taking into account the ongoing extreme weather conditions and to ensure public safety, the council arranged for them to be felled."
'We need trees'
Council chief executive David McIntosh said the damage happened while soil was being stripped out to allow archaeologists to access the site.
He said the developers Renaissance Retirement, which is building retirement flats next to the gardens, had reported the incident to the council immediately and "independent legal advice" had been taken about the situation.
"The advice is that the developer has the right to do anything necessary in order to fulfil the planning consent that he has," he said.
"Unfortunately, the protections on those trees don't apply."
Trees for Dorset's Elliott Marks said workers "should have hand dug around those tree roots".
"It's obvious that the stability would have been damaged by the huge diggers," she said.
"We need trees more than ever, if only to protect from flooding."
Druitt Gardens was gifted to the town 60 years ago by Charlotte Druitt as a garden of rest and wildlife sanctuary in the town centre.