Portland residents put on flood alert as sirens sound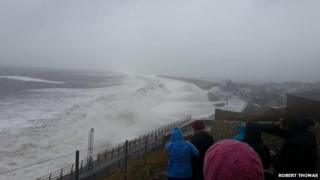 A flood warning siren sounded in Chiswell on Portland as the Environment Agency urged residents to move to upstairs rooms in their homes.
The area, along with Lyme Regis, Weymouth, and West Bay, was subject to a severe flood warning.
As a precaution, the road across to the Isle of Portland from Weymouth was closed, cutting off the peninsular.
The Environment Agency (EA) said there was a "risk of wave over-topping" on the road, which has since reopened.
Residents were told to wait until the next low tide unless they were visited by the police, who would help them safely evacuate their property, the EA said.
'Going to pray'
Properties narrowly escaped flooding during adverse weather last month, which caused the flood sirens to sound for the first time in 30 years.
However, Amanda Broughton-South, landlady of the Cove House Inn at Chiswell, said: "It's 100 times worse than last time, I'm watching wave after wave coming over the wall.
"We're upstairs, we've got our shutters up, but there's nothing we can do I'm just going to pray."
West Bay, Lyme Regis and Weymouth were also subject to severe weather warnings.
Elsewhere, the Esplanade and Shore Road in Swanage were closed because of tidal flooding.
Owner of the White House Hotel in Charmouth, Ian Simpson, tweeted that the beach had been "trashed" with debris thrown around the coastline.
He said volunteers were planning to start clearing up and salvaging boats and beach huts at low tide.
Earlier, a lorry overturned on the A35 at Askerswell near Bridport in strong winds forcing police to close the road to HGVs between Bridport and Dorchester.
Fallen trees also blocked the A35 Christchurch by-pass and Lowther Road and Meyrick Road in Bournemouth.