Weymouth Lib Dem councillor Ryan Hope reporting delay 'serious mistake' - Clegg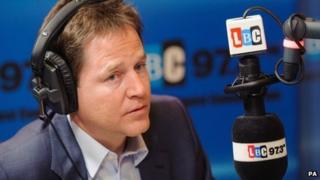 The failure of Liberal Democrat party members to report that a councillor had been charged with raping a child was a "very serious mistake", Nick Clegg has said.
Weymouth councillor Ryan Hope, 22, faces seven charges, including rape of a child and sexual assault of a child.
He denied all counts when he appeared in court in Dorchester in September.
The Lib Dem leader said local party officials failed to follow rules in not referring the matter up.
'Immense frustration'
Speaking on his weekly LBC radio programme, Nick Clegg said: "Clearly when a local party is aware of allegations of that gravity, that seriousness and choose not to pass it up the food chain then clearly something has gone wrong.
"When people don't follow the rules it's something I regret and is a source of immense frustration to me," he added.
Mr Clegg defended his handling of the situation and said when it was raised with him "we suspended him immediately".
On Monday, the party issued a statement saying Mr Hope had been suspended and that there had been a failure in communications between the local and national parties. Local party members declined to comment.
Mr Hope later confirmed to the BBC he received an email suspending him from the party, and plans to remain on Weymouth and Portland Borough council as an independent.
He was the youngest member of the borough council when he was elected at the age of 20 in May 2012.
He was also involved in organising the Weymouth Carnival in recent years and was one of the torchbearers when the Olympic flame came to Weymouth in 2012.
Mr Hope, from Norfolk Road, Weymouth is due to face trial in April.