Andrew Simpson: Olympic sailor's 'Bart's Bash' logo chosen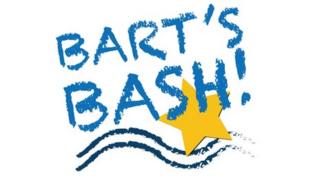 The winning entry has been unveiled after a competition to create a logo for a race in memory of Olympic sailing champion Andrew "Bart" Simpson.
More than 65 entries were received, including many by schoolchildren, but the organisers eventually chose a logo by a professional graphic designer.
Polly Durrant, from Dorchester, said her logo reflected the "give it a try" ethos of the Bart's Bash dinghy race.
It is being held simultaneously at UK sailing clubs in September.
Simpson, from Sherborne in Dorset, was killed while training for the America's Cup in San Francisco Bay on 9 May.
Trustees of the Andrew Simpson Sailing Foundation (ASSF) picked the winning logo from a shortlist of three compiled through a vote on Facebook.
An ASSF spokesperson previously said entries had come from "a broad field, including professional graphic designers, adults and children as young as five".
Nicknamed Bart, Simpson won Olympic gold at Beijing 2008 and silver at London 2012.
He died after becoming trapped under an AC72 catamaran when it nosedived, capsized and broke into pieces while training with Artemis Racing.
The foundation was set up in his name by his widow Leah, sister Amanda, and fellow sailors Sir Ben Ainslie and Iain Percy, with the aim of supporting youth sailing.
More than 250 sailing clubs have so far entered Bart's Bash, which is expected to attract some 10,000 sailors to the water on 21 September.