Weymouth Lib Dem councillor Ryan Hope's suspension 'delayed'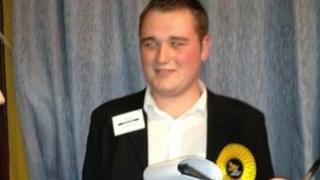 A Liberal Democrat councillor accused of raping a child was not suspended from the party when he was charged four months ago because of a communications failure, a spokesman has said.
Councillor Ryan Hope, 22, faces seven charges, including rape of a child and sexual assault of a child.
He denied all counts when he appeared in court in Dorchester in September.
The party spokesman said there had been a failure in communications between the local and national parties.
Mr Hope, who represents Weymouth and Portland, has now been suspended from the party.
A spokesman at the party's national headquarters described the allegations as "extremely serious".
He added: "Councillor Hope has been suspended... this should have happened last year but a failure to communicate the situation from the local party to the national party meant this did not happen."
Mr Hope confirmed to the BBC he received an email suspending him from the party on Monday night and plans to remain on the council as an independent.
He was the youngest member of the borough council when he was elected at the age of 20 in May 2012.
He was also involved in organising the Weymouth Carnival in recent years and was one of the torchbearers when the Olympic flame came to Weymouth in 2012.
Mr Hope, from Norfolk Road, Weymouth is due to face trial in April.