Dorset's sand-stripped beaches replenished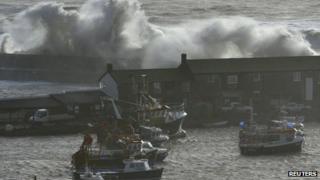 Beaches in Dorset that were stripped by severe weather earlier this month are to be replenished as part of a programme to restore sea defences.
Areas around Bridport and Lyme Regis were reshaped and stripped of sand when exceptionally high tides and storms lashed the coast.
West Dorset District Council said sand recovered from harbour dredging would be used to restore the beaches.
The work will begin in Lyme Regis on Wednesday.
It will continue in Bridport in early March, the council said.
Head of infrastructure Ben Murray said: "Waves naturally erode beaches, meaning sand is lost offshore and replenishment is required every so often. The recent severe weather has also stripped the beaches more than usual.
"Sand and sediment is recovered offshore by dredging and returned to the beach. This means the beaches are able to reduce wave energy and limit the risk of damaging other sea defences."
The county's changing coastline has been particularly unstable since storms at the start of January, with visitors being warned of rockfalls and mudslides.
On Friday, a large landslip forced the closure of a five-mile (7.6km) section of coast path near Axmouth and Lyme Regis, and on 16 January a large section of rock fell from cliffs at Burton Bradstock.