Chesil Beach storm rubbish clearers in third clean-up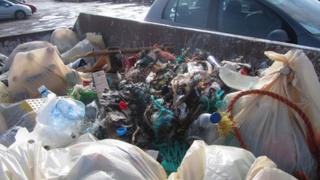 Volunteers clearing storm debris from Dorset's Chesil Beach have found a syringe, a dead bird and a skip full of rubbish during a third clean-up.
Dorset Wildlife Trust said 80 people turned out to help with the event.
The charity organised the beach clean following the success of two previous clean-ups organised by local resident Storm Wallace.
A dead cow and dolphin that had been washed up have already been removed by the authorities, the charity said.
Portland bore the brunt of storms that lashed the coast earlier this month.
Flood sirens on the peninsula sounded for the first time in 30 years, prompting many residents in Chiswell to evacuate their homes.
A natural stone stack off the coast was also reduced to rubble after being pummelled by the waves.
Sally Welbourn from the trust said there had been a "huge effort" from local people to clear away the litter.
"It's three weeks since the storms so there is less litter now but there is still a lot that needs to be removed," she added.
At the previous clean-up events, about 100 people filled skips with 30 bags of rubbish and larger items, such as crates and pallets, that had been washed up earlier this month.