Funeral of Poole hit-and-run victim Christopher Colegate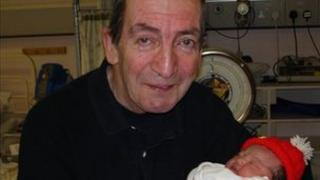 More than 250 people have attended the funeral of a grandfather who died after a hit-and-run crash in Poole.
Christopher Colegate, 69, was left fatally injured in Darby's Lane, at the junction of Heath Avenue, after the collision on 13 December.
The service at Poole Crematorium was attended by members of his family and friends.
Police are still trying to trace the driver who left Mr Colegate dying in the road.
'Closure and justice'
Reverend John Taylor led the service and read tributes on behalf of family and friends, including Mr Colegate's wife Freda and two daughters, Rachel Hayward and Tash Motton, who described him as "ever such a nice man".
"The focus of the service was Chris and not the events leading up to his death," Mr Taylor said.
"However, there are still questions with no answers and in our prayers we asked that they would be forthcoming so there would be closure and justice."
A wake at the Oakdale Conservative Club, where Mr Colegate was heading when the crash happened, followed the service.
Mr Colegate, who lived in Poole, was described as frail and used two walking sticks.
A reward of £2,000 for information leading to the conviction of those responsible is being offered.
It is made up of £1,000 each from both Crimestoppers and the Oakdale Conservative Club.