Dorset badger cull 'increasingly likely'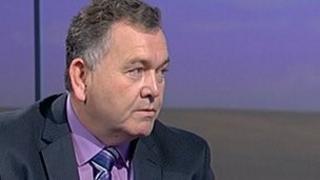 A badger cull in Dorset is looking "increasingly likely", the county's police and crime commissioner says.
Martyn Underhill said he believed a cull could happen next year despite similar moves in Gloucestershire and Somerset not meeting their targets.
It is thought culls in those counties cost more than £2.5m in policing.
Mr Underhill admitted the subject was controversial and said he believed a cull in Dorset would be "unsettling" to the community.
Government ministers and the National Farmers' Union believe culling badgers will curb TB in cattle. Opponents say shooting the animals is not effective.
'Big thing'
"Even without going into whether it's right or wrong, it does fracture communities," Mr Underhill said.
"It's a big thing on my radar. It's a big thing on my chief constable's radar. When the cull does arrive we will be all over it.
"We need to make sure that the law is complied with but that people still feel in their communities that they're safe and this doesn't impact too much on the fear of crime."
The government pilot culls in Somerset and Gloucestershire aimed to kill 70% of the badger population to test how effective, humane and safe a cull could be.
The cull in Gloucestershire was ended early as it had not met its targets and the Somerset pilot failed to meet its target even after a three-week extension.
Animal charity Care for the Wild recently told the BBC the badger culls cost more than £7m.
In response, both Avon and Somerset Police and Gloucestershire Police refused to answer Freedom of Information requests from the BBC over the cost of policing the cull.
Both organisations said they "did not have the most up-to-date costs available" but they "intended to publish the figures in the future".
But the BBC understands in Gloucestershire the force spent £1.9m and in Avon and Somerset the figure was £900,000.
A Defra spokesperson said: "Ministers have always been clear that no decision will be made on the future roll out of badger cull licences before the independent panel of experts have submitted their report on the pilots."