Anvil Point stranded climber airlifted to safety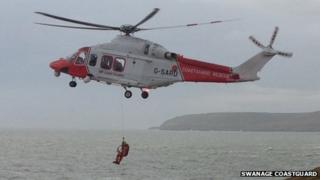 A coastguard helicopter helped rescue a climber stranded in wet weather at the base of cliffs in Dorset.
The conditions left the man in his 40s unable to ascend the Subliminal climb, near Anvil Point, Swanage. His climbing partner was able to call 999 for help.
Crews from Swanage and St Albans and the Portland Coastguard helicopter responded just after 13:30 GMT on Saturday.
The climber was winched to safety by the helicopter and ground crews.
Both men were unhurt and did not require hospital treatment.