Curtis Fields: Last chance to save 'town green'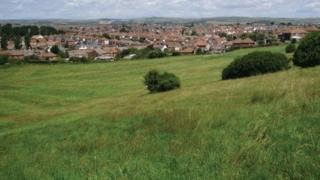 Campaigners fighting to protect an open area in Dorset have taken their case to the Supreme Court.
The Society for the Protection of Markham and Little Francis wants to save the land on the outskirts of Weymouth from development.
The 100-acre site, known as Curtis Fields, was classed as a town green in 2000, but Betterment Properties bought 46 acres of the site in 2004.
The town green status was removed in 2010 by the High Court.
The judge ruled that Dorset County Council had applied the wrong Act of Parliament when it registered the land as a town green.
In March 2012 the society a bid to retain town green status in a case heard at the Court of Appeal.
At the hearing later, the society will seek to persuade the court to uphold the registration of the village green.
The Open Spaces Society, which has contributed to the campaigners' fighting fund, said it was the "last chance to save the land from development so that local people can continue to enjoy it for recreation".
Case officer Nicola Hodgson said: "If left unchallenged, this case poses a threat to the many greens which were registered under the Commons Registration Act 1965, and we would lose this lovely green space at Weymouth."