Mobile police counter plans for Dorset shelved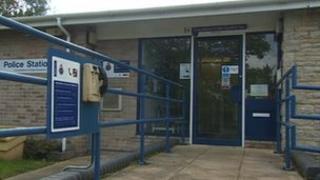 Plans for a mobile police counter service in rural Dorset have been shelved following criticism of the plans during a public consultation.
Dorset Police had planned to withdraw officers from manning front counters of stations in a bid to save £500,000.
Police and Crime Commissioner (PCC) Martyn Underhill said one full-time desk would now remain open in the north of the county.
West Dorset councillor Chris Loder said the move was "clearly progress".
A public consultation into station desk enquiry offices was held in November following a review which showed them to be under-utilised. They were only to be retained in Bournemouth and Weymouth.
'Rural people pay'
Mr Loder said the manned front counters of stations open to the public were "much valued" in rural communities.
"The consultation run last time was inadequate - it did not engage with rural people and their views.
"Rural people pay and contribute to the police force as well as people in the towns."
Mr Underhill said feedback was that an alternative mobile police counter service was "not considered viable or valued".
He said one front counter would be retained at a police station in north Dorset, but the location had not yet been decided.
Chief Constable Debbie Simpson said: "We are keen to hear from the public, elected members and partners about the revised proposed changes to public front counter service and I'd like to reiterate that no final decisions have been made."