Dead cow and dolphins among Chesil Beach storm debris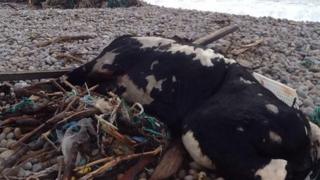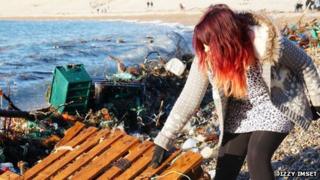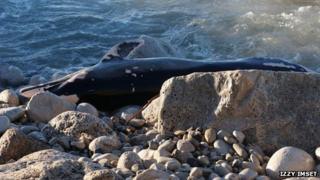 A dead cow, dolphins and birds have been among the debris found on a beach in Dorset by volunteers involved in a clean-up following recent storms.
More than 100 volunteers took part in clearing Chesil Beach, between Portland and Weymouth, at the weekend.
Izzy Imset, who writes a blog about the beach, said people "just started turning up to help" after pictures of the rubbish went viral on social media.
Dorset Waste Partnership has warned people not to touch the dead animals.
'Manmade pollution'
Some people have criticised the local council for not clearing up sooner.
Mr Imset said it was "worrying" that some of the debris, including a dead cow, had still not been removed.
Dorset Waste Partnership, which provides waste services for seven Dorset councils, said it was "grateful for the efforts of volunteers".
It said it had been in "close contact" with the landowner, the Crown Estate, and said it would work with "specialist contractors to clear and dispose of the waste and the dead animals as soon as possible".
The service said it had not received any reports of hazardous waste but advised volunteers to wear gloves and sturdy shoes while picking up litter.
"If they see any materials that they think could be hazardous or any dead animals they should not touch them but should report it to the council," it added.
Sarah Flann, from Weymouth, has been photographing the storm aftermath at Portland.
She said: "There have been dolphins, birds and cows washed up, tangled in waste that's been placed into our waters."
Mr Imset said other "manmade pollution" included Christmas trees, a washing machine and shoes.
Landslide warnings
Flood sirens sounded on Portland for the first time in 30 years on 6 January, which lead to many residents evacuating their homes in Chiswell.
West Dorset District Council has warned the risk of landslides and rock falls has increased following the severe storms and heavy rain across Dorset.
The authority said high tides had also "re-shaped and stripped beaches" along the coast making it is easier for people to get "cut off" by the incoming tide.
The far western end of the esplanade at West Bay is currently closed meaning there is no access to and from Eype along the beach.
Weymouth and Portland Borough Council, has also advised people to stay away from the cliff tops and the base of cliffs.
Several roads in the county are also closed because of continued flooding.