Flooded Charminster church services held in village hall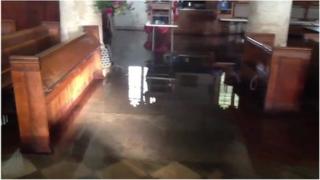 Sunday services at a Dorset church have been held in the village hall after flooding last weekend left the church with 10in (25cm) of standing water.
Several nearby homes in Charminster, near Dorchester, suffered a similar fate to that of the Grade I-listed Parish Church of St Mary the Virgin.
They were flooded after the River Cerne overflowed following heavy rain.
Church curate, the Reverend Peter Stone, said it had brought out the community spirit of the village.
Bridge blamed
He said: "A lot of people were quite shocked at how this could have happened to a church.
"But a church is a building and we've been there for over 1,000 years, so it's seen floods come and it's seen floods go.
"It's just one of those things that happen to all of us, but at the same time it's been really interesting seeing people's reaction.
"They've been coming down to help, to bring stuff out and [have made] comments on Facebook.
"People that probably don't come on a Sunday morning but would say: 'Look what's happened to OUR church, to MY church' when they come for maybe a coffee or to some of the more unusual church events.
"It's been really positive in that sense."
A nearby council-owned Grade II-listed bridge has been blamed as a major cause of the flood problems and local people have said they would like it to be removed and replaced.
But Dorset County Council said it could not remove the bridge because of its English Heritage listing.