Campaign to save Christchurch's Druitt gardens trees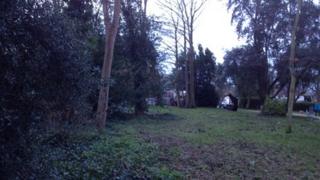 Campaigners hope to halt plans that would see trees felled in a town centre garden of rest to make way for housing.
Druitt Gardens in Christchurch, Dorset, is also a bird sanctuary and was bequeathed to the town more than 60 years ago.
Developers Renaissance Retirement has been granted permission to build retirement flats next to the gardens, just behind the High Street.
Seven 15m (50ft) sycamore trees would require felling under the plans.
The council's planning control committee is meeting later to consider a recommendation that these are not made subjects of Tree Preservation Orders, in order to ensure they can legally be felled.
Construction is due to commence imminently and is due to be completed by October.
'Dark and uninviting'
Christchurch Borough Council has received 350 letters of objection and its strategic director Neil Farmer said all representations would be taken into consideration before a decision is made.
He said: "Since taking over responsibility for Druitt Gardens, the council has transformed a previously dark and uninviting place into a more open site by removing some non-native trees and cutting back overgrown shrubs.
"The gardens are now a much more welcoming place which can be enjoyed by residents and visitors alike."
Peter Fenning, secretary of the Christchurch Conservation Trust and member of campaign group Trees For Dorset, said: "These gardens are the 'green lung' of the town and were left to the people of Christchurch as a gift from the late Charlotte Druitt.
"It was to remain as a bird sanctuary and a garden of rest.
"If we continue to lose the natural environment, trees, undergrowth etc, all the wildlife here would disappear, possibly for ever.
"We are disappointed that the council seems to be going all-out to assist the developer by allowing the building of new homes right up against the edge of the gardens.
"That means seven trees being demolished for the convenience of the developer and give a nice view of the gardens to the new owners."
Campaigners are also worried plans to cordon off an 800 sq ft (74 sq m) corner of the gardens to allow lorries access during construction on the site could frighten off the wildlife for good.