Portland homes evacuated as sirens sound for first time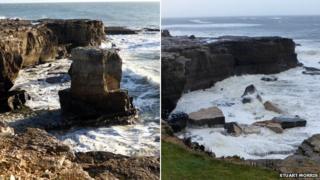 Residents in Portland remain on standby after flood sirens sounded for the first time in 30 years on Monday night.
The area around Chiswell was abandoned by many as the warning signal sounded at about 22:30 GMT.
The west-facing stretch of Dorset coast was the subject of a severe flood warning - now downgraded - after tides peaked again at 10:15 GMT on Tuesday.
Poole's Twin Sails bridge was also affected by adverse weather, after a steel totem was blown loose.
Borough of Poole Council said the damage was caused by the high winds.
The spokesman added: "As a crane is being used to support the totem, we have temporarily closed one lane to traffic while these works are being carried out."
The four 7-metre (22ft 11in) high curved stainless steel totems house the bridge's safety barriers, warning lights and operating systems.
The severe flood warnings at Chiswell and Preston Beach in Lodmoor, and for Iford Bridge, near Christchurch, have been downgraded.
Following the siren sound in Chiswell, residents were told to evacuate their homes or move to upstairs rooms facing away from the sea. Some took refuge in the The Heights Hotel.
The Environment Agency (EA) said it was the first time the siren had sounded "for real", and not during a test, since one was installed on the island more than 30 years ago.
'Amazing experience'
Jackie Breakspear, landlady of the Cove House Inn at Chiswell, said: "We had the police, coastguard and the Environment Agency here but we knew we were in trouble when the flood warning alarm went and everybody left, including the police, and left us to it.
"Watching everybody empty out of the car park - we knew we were on our own. We were warned that anybody left in the pub had to come upstairs.
"We knew it was going to be bad. The sea just came over, battering the shutters, water was pouring in, but no water actually came into the pub at all - so we were very lucky.
"It was an amazing experience - to watch it was fantastic."
A rock stack off the coast, known locally as Pom Pom rock, has been washed away, according to locals.
Local historian Stuart Morris, who photographed the rock before and after its collapse, said: "You are talking about a natural stack that was hundreds of tonnes, totally demolished and broken to pieces by the storm.
"One thing that Portlanders love is a really spectacular storm."
Bournemouth Borough Council said it expected the severe flood warning for Iford to be lifted later but residents evacuated from the mobile home park have been advised not to return until the all clear has been given.