Jurassic Coast path repairs at Houn's Tout due to begin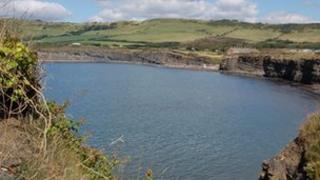 Repairs on a section of Jurassic Coast footpath that closed a year ago will take place "in the next few months", Dorset County Council has said.
The path between Kimmeridge Bay and Houn's Tout was shut by the authority in January 2013 following a landslip.
The council said it had secured £10,000 from South West Coast Path to carry out repairs at Houn's Tout.
It added it was negotiating with the landowner regarding repair work at Kimmeridge Bay.
Encombe Estate, the landowner at Houn's Tout, has agreed to the path being moved 50m (165ft) further inland, and for about 400m (1,300ft) of new fencing being put up near Freshwater, according to Dorset County Council.
The work on the path at Kimmeridge, which is on the Smedmore Estate, is set to include 300m (1,000ft) of new fencing but a date for this has not yet been set.
The council spokesperson said the work at Houn's Tout would only be possible if the ground was "fairly dry" and therefore would depend on recent stormy, wet weather subsiding.
The authority said it wanted to reopen the path "as soon as possible" but said that would only be possible once all repairs were completed.