Ichthyosaur skeleton found at base of Dorset cliff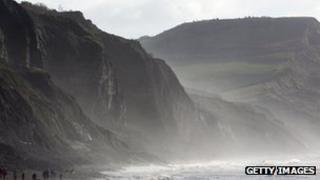 Storms in Dorset over the Christmas period have uncovered a 1.5m (5ft) ichthyosaur skeleton at the base of Black Ven near Charmouth.
Stormy seas have eroded away parts of the Jurassic Coast, making it a "prime time" to find fossils, according to earth science manager Richard Edmonds.
The giant marine reptile fossil was removed on Boxing Day.
It will take hundreds of hours to piece together the ichthyosaur skeleton, which looks similar to a dolphin.
Mr Edmonds, who works for the Jurassic Coast world heritage site team, said he found three ichthyosaur skeletons last year due to increased coastal erosion caused by bad weather.
Normally it could be up to two years between discoveries, he added.