Reunion for Westover Ice Rink Bournemouth skaters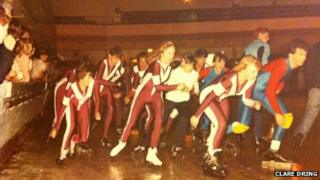 Ice skating enthusiasts in Bournemouth have staged a reunion for users of a rink closed more than 20 years ago.
About 300 people, including many former users of the Westover Ice Rink, took to a temporary rink on Saturday night.
Organisers, who said those who attended ranged in age from five to 83, are campaigning to bring back a rink.
Despite outline planning permission being granted in 2010, plans for a new ice rink at Kings Park have not been realised.
The art deco building on Westover Road housed an ice rink since it opened in the 1930s and later attracted ice dance stars including Robin Cousins and Jayne Torvill and Christopher Dean before it closed in 1991.
Mary Waygood, who set up a Facebook group for former users, said: "The reunion went better than planned, it was really, really good.
"There are thousands of people who used to figure skate, speed skate, play ice hockey and take part in the general public skating. It was like a large extended family.
"Not having a permanent facility now is a great shame for the youth in Bournemouth."
The reunion skating event was held on an ice rink set up for Christmas at the Bournemouth International Centre.