Dorset missing persons renewed appeal from police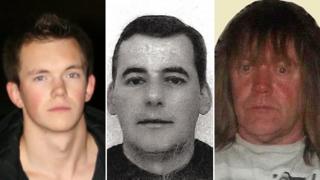 Police have renewed appeals to find three men from Dorset who have disappeared without trace.
Lithuanian Jurij Sliachtecov, 21 at the time, went missing more than two-and-a-half years ago from Bournemouth.
Simon Roberson from Weymouth, 45 at the time, has not been seen since 13 November 2012 and Richard Gibbons, 54, from Poole, vanished on 18 April 2013.
Dorset Police said it hoped to reunite the missing men with their families over the festive period.
Passport gone
Jurij Sliachtecov was reported missing the evening of Sunday 1 May 2011 after spending an evening with friends in Bournemouth town centre.
His friends originally believed he had returned to his native Lithuania, as Mr Sliachtecov left his bank cards and clothes but took his passport.
But his family and Lithuanian authorities confirmed he had not entered the country.
He is white, of Eastern European appearance, 5ft 6 in tall (1.6m), of slim build and has short brown hair.
Simon Roberson was staying at a guest house in Weymouth along The Esplanade, but left without any of his possessions and has not made contact with his family.
He is 5ft 11in (1.8m) with "short, dark straight wiry hair and well-spoken with a southern accent", said Dorset Police.
Richard Gibbons went missing from his home address in the Alderney area.
Police said he "had been upset" and his family were "concerned that he may have come to some harm".
He is white, 5ft 7in (1.7m) tall, of slight build, with brown shoulder-length hair.