Christmas pudding chased across Weymouth beach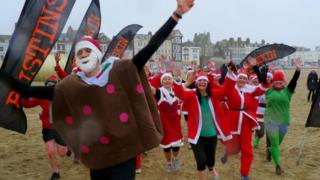 Runners dressed up as Father Christmas, elves and fairies have chased a "Christmas pudding" across the beach at Weymouth in the name of charity.
The winner, 17-year-old Luke Voss, caught last year's winner, Kit Walker, who was dressed up as a Christmas pudding.
The annual event raises money for the British Heart Foundation (BHF).
Organises estimated about £2,500 was raised on the day with 150 runners taking part.
'Festive spectacle'
The course saw runners take in a loop from the pavilion to The Groyne at Greenhill and back again.
Neil Jarrett, fundraising and volunteer manager for the BHF, said: "We really looked forward to this year's chase the pudding and creating a festive spectacle on Weymouth Beach.
"Despite the weather conditions, it was a lot of fun, and the money raised will help us to continue the life-changing work that we carry out in the local area and across the UK."
The Dorset event, organised by BustinSkin Triathlon and Events, is in its sixth year.