Queen's Gallantry award for Dorchester crash rescuers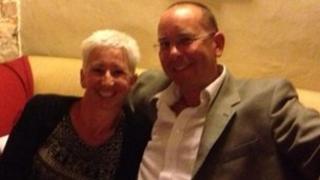 Three people from Dorchester are to be recognised for their life-saving efforts by the Queen.
Brian and Joanne Keane and Andrew Bilton are to be been given the Queen's award for gallantry after rescuing two drivers from their burning cars.
The badly injured drivers had become trapped in their vehicles following a crash on the West Stafford Bypass.
They will be given the Queen's Commendation for Bravery from the Lord-Lieutenant of Dorset in the new year.
Andrew Bilton and husband and wife Brian and Joanne Keane came across the crash on the bypass on 23 June.
Doors jammed
They were able to pull one driver from their car, while the driver in the burning second car remained trapped with both front doors of the car jammed shut.
Mr Keane managed to open the car's back door, got inside and was able to force open the driver's door.
With the help of Mr Bilton they then opened the door from the outside and got the driver out to safety, and Mrs Keane performed first aid until the emergency services arrived.
Mr Keane said: "I just couldn't leave him and I'll remember that feeling of relief when the door finally opened until the day I die."
Of being recognised for his bravery he said he was "as proud as anything" and added he could not have done it without his wife or Mr Bilton.
The award citation from the Cabinet Office reads: "It is almost certain that all three were instrumental in saving the lives of the two crash victims.
"Brian and Joanne Keane and Andrew Bilton all put their lives in danger from the moment they became involved in the rescue.
"The crashed vehicles, which were a few steps away, could have exploded and possibly two of them, if not all three, could have been killed."