Christmas domestic abuse: Police get more resources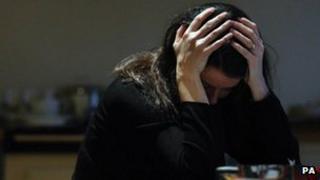 Known domestic abusers in Dorset are to receive a visit from police in an effort to reduce the number of incidents over the festive period.
Dorset Police receives, on average, about 700 reports of domestic abuse each month but that number increases over Christmas and New Year.
The force is to make extra officers available who are trained to help victims and deal with abusers.
High-risk victims will also receive reassurance visits from Thursday.
Insp Steve Thorpe said: "We are determined to support victims in reporting these crimes, and make sure those who inflict abuse are brought to justice. This is a force priority.
"If you commit an act of domestic abuse against your partner, expect to be arrested, dealt with robustly and go through the criminal justice system if appropriate.
"Domestic abuse offences can attract significant custodial sentences."
You First, an outreach service for victims of domestic violence, said 2013 had been its busiest year.
A spokeswoman for the charity said: "During the festive period we have noticed that referrals increase during the first two to three weeks of December then drop over the two-week school holidays where they then peak in the New Year.
"Many of our clients never call the police and we hope that with this initiative they will see Dorset Police recognising domestic abuse and will take positive action where possible."
Across the UK, two women a week and one man every 17 days are killed by their partner or former partner, according police figures.
Dorset Police urged anyone suffering as a result of domestic abuse to report it and seek help.