Thorncombe Beacon helicopter rescue for dog walkers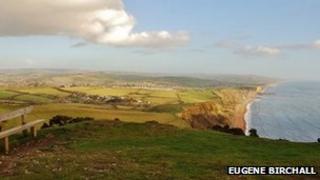 Two dog owners had to be rescued after they became stranded on the Dorset coast while trying to search for their lost Irish setter.
The two men had returned to Thorncombe Beacon on Sunday after their dog disappeared over cliffs on Saturday.
Having located the body of the dog, the pair became trapped by the tide.
They were airlifted by helicopter along with the dog's body after coastguards said a land or sea rescue was "hazardous and impracticable".