Riviere 64-carat diamond necklace £250,000 sale breaks record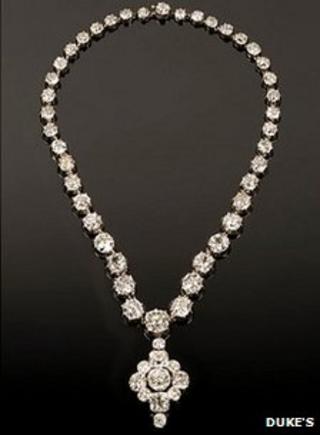 A diamond necklace costing almost £250,000 has broken the record for the most expensive item of jewellery sold at a Dorset auction house.
The 53 cushion-cut diamond piece sold for £190,000, rising to £240,160 with premium, at Duke's in Dorchester.
The Victorian 64-carat necklace, which had an estimate of £150,000, broke the previous record of about £84,000 for an emerald-set turban brooch.
Auctioneer Guy Schwinge said the seller of the item was "absolutely delighted".
He said she had "inherited the necklace recently" and it had been "tucked away in a safe for the last 40 years".
He added a "major international buyer" bought the necklace.
Before the sale, valuer Amy Brenan said the largest diamond in the "riviere" necklace was "five carats with the rest graduating along the neckline".
"The idea of a literal river of diamonds gracing the wearer's neck was so seducing in the Victorian period that many women copied the design of necklaces like this but using cheaper stones and, in some cases, glass.
"To find an original diamond one is extremely exciting."