Thomas Hardye School evacuated during bus fire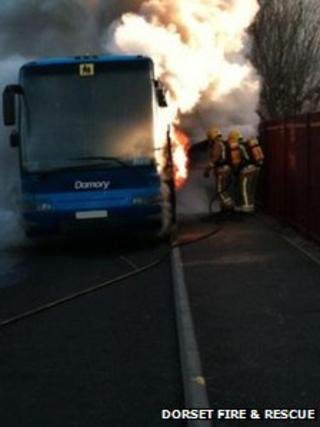 Pupils fled from a Dorset school because of a fire which destroyed a school bus.
The blaze outside the Thomas Hardye School in Dorchester began just before lessons started at about 08:40 GMT. Students were evacuated from one of its blocks.
The school reported no injuries but a small number of students complained of minor smoke inhalation.
The cause of the fire was the vehicle's overheated brakes.
Sparks were seen underneath the vehicle before the fire broke out. No pupils were on board.
A fire service spokesman said pupils had "experienced a little of how quickly fire can take hold".
Pupils praised
Children returned to lessons once crews gave the all clear.
The bus had been transporting students from Winterborne Abbas and the surrounding villages.
Head teacher Mike Foley said: "The staff quickly took control of the situation and students behaved calmly and responsibly.
"The fire service dealt with the situation professionally and with minimal disruption to the smooth running of the school."
The Environment Agency has been informed of the incident because of "significant" diesel spillage.
The Thomas Hardye School teaches children aged between 13 and 18.