Body of Durlston sea cave death woman may never be found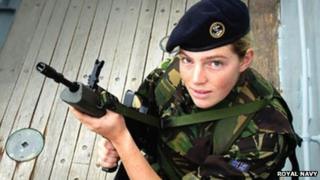 The body of a teacher who died in a sea cave in Dorset "may never be found", a coroner's officer has said.
Charlotte "Buffy" Furness-Smith, 30, a former Royal Navy reservist, died at Durlston, near Swanage, last month.
A companion who had been swimming with her at Tilly Whim Caves raised the alarm. By the time rescuers reached her she had died.
Julian Jenesen said there was the "possibility [her body] will never be found" due to the nature of the sea.
Mr Jenesen said an inquest would be able to go ahead without a body. However Ms Furness-Smith's family would have to wait for six months, in accordance with UK law.
'Missing person'
Ms Furness-Smith disappeared on 2 November.
Her male companion went for help and was winched to safety, but Ms Furness-Smith had become trapped in the caves at sea level.
By the time rescuers reached her she had died. The man, 31, was unhurt.
Rescuers were unable to retrieve her body as it was deemed "too dangerous", with "horrendous" weather conditions, gale force winds and high tide.
Her body has not been seen since.
Dorset Police confirmed Ms Furness-Smith was still listed as a "missing person".