Bournemouth University reveals plans for £22m building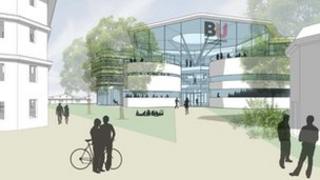 Proposals for a new £22m academic building have been unveiled by Bournemouth University.
The glass-fronted building is planned for the Talbot Campus, where there is currently a car park.
It will house research and facilities including seminar rooms and lecture theatres which the university aims to open to residents and local businesses.
The university has started a public consultation on the plans due to be submitted in February.
Professor John Vinney, vice-chancellor at Bournemouth University, said: "Our aspiration is to become a centre of academic excellence in education, research and professional practice and we need world-class facilities to match those aspirations."
The university said it was looking at options to replace all of the 197 car park spaces.