YouTube video lands illegal net poacher in court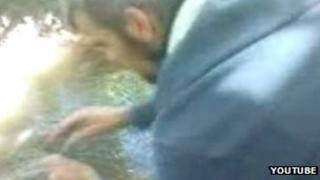 A man has pleaded guilty to using an illegal fishing net after he posted a video of himself in the act on YouTube.
Benjamin Cook, 31, of Patchins Road, Poole, Dorset pleaded guilty to using an unlicensed net to catch salmon and sea trout on the River Sherford.
He was ordered to pay £475 in fines at Bournemouth Magistrates' Court.
The Environment Agency said the case was the first time it had successfully secured a conviction using evidence from social media.
The clip called 'Poachin in Poole' - which is still visible - was posted online in 2010 and spotted by a fisheries officer who recognised Cook.
'In the blood'
In it, Cook can be seen removing a large sea trout from a fixed monofilament net near Kings Bridge, Dorset.
He was arrested at his home in February this year.
The court heard that the Environment Agency had spent £25,000 in 2012 on improvements to help salmon and sea trout migrate up the River Sherford to their spawning grounds.
The river flows into Poole Harbour where netting is strictly controlled to protect fish stocks.
Cook's net was placed across the river to intercept fish swimming upstream.
Stuart Kingston-Turner from the Environment Agency said the organisation "won't hesitate" to prosecute anyone illegally fishing.