Duke of Wellington's Kingston Lacy tree to be felled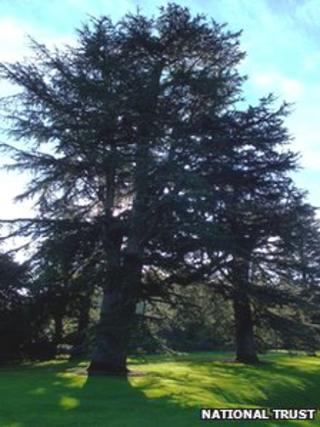 A tree planted by the Duke of Wellington in the 19th Century is to be cut down because it is suffering from severe rot.
The cedar tree was planted on the Kingston Lacy estate in Dorset by the "Iron Duke" in 1827.
The National Trust said the "landmark" tree, and two others, had to be felled immediately for safety reasons.
Head gardener Andrew Hunt said: "We will be sorry to see them go but, in a garden, everything has a life span."
Recent tests on the tree found the trunk to be extensively damaged by rot.
'Size and grandeur'
Mr Hunt added: "The tree planted by the Duke of Wellington is particularly special to us and all the visitors to Kingston Lacy.
"But it is also in the worst condition and, sadly, it has reached the end of its life."
The tree will be felled on Friday. The ground will then be cleared and replacements planted.
Mr Hunt said: "They won't have the size and grandeur of the originals initially. We have to plant for the distant future in the way those who planted the garden 200 years ago left a legacy for us.
"The seeds from the duke's trees have been used to propagate many other younger cedars in the garden so its family line lives on with us."
Arthur Wellesley, who was the first Duke of Wellington, planted the tree at the estate then owned by William John Bankes.
They became friends during the campaigns of the Peninsular War.
Wellington, with the help of Prussian forces under Gebhard von Blucher, defeated Napoleon at the Battle of Waterloo in June 1815.