Dorset steamrollers world record confirmed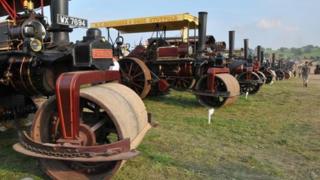 A group of vintage steamroller enthusiasts have discovered their attempt to flatten their own world record was a success.
The bid to set a new record for the greatest number of vintage steamrollers in a parade formation took place at the Great Dorset Steam Fair, near Tarrant Hinton in Dorset, this summer.
The organisers received their official certificate from Guinness World Records this week.
There were 103 steamrollers involved.
'Place in steam history'
Among them was a 10-tonne roller called Betsy once owned by the late celebrity steeplejack Fred Dibnah.
The previous record, which was also held by the fair's organisers, was set in 2003 and involved 32 steamrollers.
Organiser Martin Oliver said the team felt "honoured and proud".
"We are incredibly honoured to be part of Guinness World Records, and very proud to have earned a place in steam history with this achievement."
The roller that broke the record was Lord Jellicoe, a Fowler that belonged to Mr Oliver's late father, Michael Oliver, the founder of the Great Dorset Steam Fair.
More than 200,000 people visit the steam fair each year at the 600 acre-site, which also boasts motorcycle and vintage tractor exhibits.