Weymouth Museum to reopen at Brewers Quay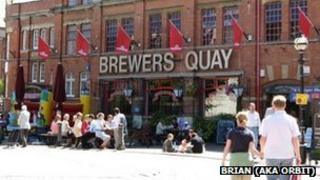 A Dorset museum that includes in its collection a bath once owned by King George III is to reopen following a revamp.
Weymouth Museum closed in 2011 while Brewers Quay was redeveloped.
The museum is due to reopen on 11 December. It is also home to maritime items and postcards.
The Grade II-listed converted Victorian brewery near the Old Harbour was formerly home to the Devenish Brewery, which closed in 1985.
David Riches, chairman of the friends of the museum, said its displays had been "completely redesigned" and included a "history timeline" of the town.
Weymouth and Portland Borough Council owns a number of items in the museum's collection including a life-size painting of King George III.
The king holidayed in Weymouth in the 18th Century and helped establish its role as a resort.
Brewers Quay, which is also home to an auction house, antiques emporium and restaurant, reopened in March following the first phase of its redevelopment.
It is expected to be completed by 2015.