Dorset coach crash woman's death ruled accidental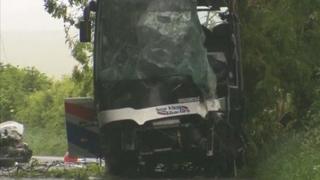 An inquest has returned a verdict of accidental death in the case of a woman killed in a crash with a school coach.
Sophie Crew, 23, from Wareham, died in hospital from a brain injury following the collision in Horton, Dorset, in June.
Twenty-six pupils of Queen Elizabeth's School in Wimborne were hurt.
Dorset coroner Sheriff Payne concluded Ms Crew had been on the wrong side of the road, perhaps by only a foot.
"Because of the width of the coach there was little room for error," he added.
'Endless love'
The vehicle, owned by Sea View Coaches, was carrying 45 pupils from Queen Elizabeth's School, aged 14-18, from the Alderholt area at the time of the crash.
The collision with Ms Crew's Mini resulted in the coach leaving the road and hitting a tree, a road sign and a telegraph pole.
The inquest heard that some of the children were not wearing seatbelts and there were a number of minor injuries, but everyone was taken off the coach safely.
The coach driver described it as a very "traumatic" event.
Ms Crew was taken to hospital in Poole after the collision but died of her injuries.
A statement from Ms Crew's family said: "Sophie's tragic death has affected so many people as she embraced every aspect of live and was such a vibrant and enthusiastic individual.
"As a family, we have received hundreds of letters, showing not only people's condolences but showing how Sophie positively enriched their lives and supported them through challenging times.
"Sophie's endless love and affection touched so many and is one of the most difficult consequences of her life ending too soon."
Ms Crew's family took the decision to donate her organs, benefiting eight lives, it was revealed.