Wimborne Minster's Priest's House Museum and TIC merge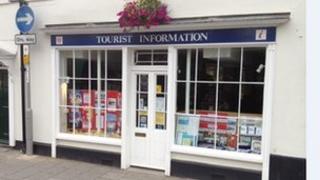 Three members of staff will lose their jobs when a museum and tourist information centre (TIC) merge in a Dorset town.
Priest's House Museum will now take over the running of Wimborne Minster's office from Saturday using volunteers.
East Dorset District Council will fund a manager at the centre for three years, but three part-time staff will lose their jobs.
Plans to close Wimborne Minster's tourist office were unveiled in August.
Campaigners gathered more than 5,000 petition signatures against plans to close the existing TIC, which is located next to the museum.
Two other part-time staff members have taken up redeployment as customer service officers within the authority. The council said the option was offered to all staff at the centre.
'Volunteers needed'
Chairman of the town's tourism committee Anthony Oliver said: "The last thing we wanted was to lose the centre altogether so it's splendid that it's going to continue.
"But it's sad that some of the super staff that currently work there - who have been really excellent - will lose their jobs."
The museum said it was now looking to recruit "a number of volunteers" to run the tourist information centre.
A similar arrangement has been agreed in Christchurch where the Regent Centre will take over the running of the tourist centre from 2 December.
Wimborne Minster's tourist attractions include its church which is dedicated to St Cuthburga, sister to King Ina of the West Saxons.
It is also believed that Alfred the Great buried his brother Ethelred there in 871.