Lytchett Matravers homes have gas restored after two nights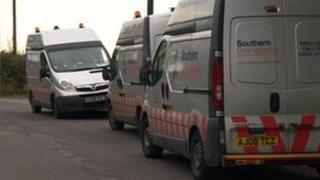 More than 300 homes near Poole in Dorset were left without gas supplies for two nights.
Southern Gas Networks said a fault at a pressure reduction station on Sunday, resulted in a cut to about 600 homes in Lytchett Matravers.
In a 14:00 GMT statement, the company said gas was "now available" to all residents.
It added that it would compensate local people £30 for each 24-hour period they were without gas.
Engineers had to visit every affected home to turn off their supplies before gas could be reintroduced back into the network.
An incident centre was set up at the village hall to offer information and advice to residents.