Victorian railway carriage sells for £2,300 at auction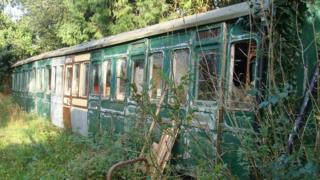 A rare Victorian railway carriage found semi-concealed in a hedge has sold for £2,300 at a wedding venue house sale.
The carriage, believed to date from around 1890, was among the contents of Birkin House, near Dorchester in Dorset, which were auctioned earlier.
Six serious bidders emerged for the carriage, used more recently as a garden shed, before it was eventually sold to a local buyer.
Beforehand, auctioneers had only expected bids of around £1,500.
Birkin House, in the village of Stinsford, has been run as a wedding venue and bed and breakfast in recent decades. Its current owners are retiring and selling-up.
Duke's of Dorchester ran the auction, which saw 380 lots including four-poster beds, crockery and paintings go under the hammer.
Auctioneer Matthew Denney said: "In the end, the carriage has gone to a local private client and it will be staying in Dorset.
"I think he initially only wanted to spend £2,000, but after ending up in a head-to-head with a phone bidder, he pushed himself that little bit further to get it."
The carriage, measuring 48ft (14.6m) in length, maintains many of its original interior fittings.
It was believed to have been purchased by a previous Birkin House owner, who was also a railway enthusiast.