Puppy stolen during Bournemouth burglary reunited with family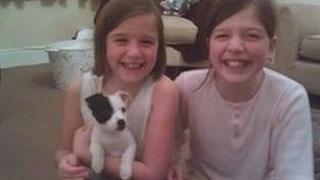 A dog owner has said he is "very lucky" after being reunited with his 10-week old puppy, which was stolen from his home during a burglary.
Buddy the Jack Russell was taken when the house in Richmond Park Road, Bournemouth, was broken into on Thursday afternoon.
Owner Stuart Whiting said he had received a text message from someone on Sunday evening saying they had Buddy.
He picked him up 10 minutes later "safe and completely unharmed".
A 26-year-old man from Bournemouth has been arrested on suspicion of burglary, and a girl aged 17 from Poole is being held on suspicion of handling stolen goods.
Mr Whiting added: "We can't believe we have got him back to be honest. It's a happy ending.
"I know burglars aren't nice people anyway, but I couldn't believe they'd take a dog.
"We had only had him three weeks and he hadn't even been outside yet as he has only had half of his injections."
'Community spirit'
Mr Whiting said he told his daughters, 10-year-old Lucy and Eve, eight, they had been burgled - but then had to break the news about their puppy.
"They were crying. They were really devastated," he added.
The engineer thanked people who shared the news of Buddy's theft on social media.
"So many people helped out, even many we don't know," he said.
"It proves there are more decent people out there. It proves there's a really good community spirit."
Two bicycles, a laptop computer and several games consoles were stolen, but Mr Whiting said they were "not important" now that Buddy had been found.
Dorset Police said Buddy was found in the Bournemouth area on 24 November.