Blue plaque on 'important' John Wesley Methodist site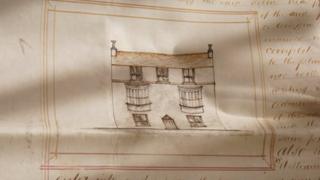 A blue plaque has been placed on to a building believed to be the first in Dorset used by the founder of the Methodist Church.
According to deeds discovered by new-age shop owners John Conway and Allison Chan, John Wesley preached at Epworth Villa in Weymouth in 1776.
Methodist archivist John Russell called it "historically very important".
Ms Chan said she was "proud and privileged" to be working and living at the property.
The business partners bought the building last year.
Mr Conway said: "I was looking at the deeds because they were beautifully written - the way people used to write, with the proper penmanship.
"And as we were going through them Wesley's name jumped out and I thought 'that's interesting'.
"This was a lost house that Wesley wasn't on the radar as having visited."
Mr Russell, archivist and conservator for the Southampton Methodist district, spent 15 months examining deeds and indentures for the Grade-II listed Georgian residence.
He also cross-referenced them with passages in the sixth of Wesley's eight journals.
In it he described the "new house at Melcombe Regis" where he preached to an audience "that the house would well contain".
Mr Russell said: "John Wesley went to that house on the 6th of September 1776 and preached to a large group of people, thereby making it the very first Methodist meeting house in Weymouth, if not in Dorset."
Neither of its new owners practise Methodism.
Ms Chan describes herself as "spiritual-minded", and "open to any religion, staying neutral", whilst Mr Conway was brought up Roman Catholic but is now more "liberal-minded".
Ms Chan said: "There was something about the building. You could feel the atmosphere. It's a very special place."
The Methodist Church has a global membership of 70 million people.
The plaque was unveiled in the presence of Weymouth and Portland Mayor Ray Banham.