Bournemouth pier to beach zip-wire approved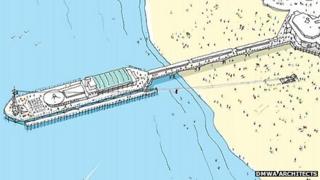 A zip-wire from Bournemouth Pier to the town's beach has been approved.
The attraction will include a 20m (65ft) tower for the top of the wire and a landing structure at the bottom.
The Bournemouth Civic Society had objected to the plans over concerns about it being inappropriate for the pier and unsafe in high winds.
However, Bournemouth borough councillors approved the plans for a three-legged tower with a spiral staircase.
The zip-wire down to the east side of the pier will be about 245m (800 ft) long.
The council also approved plans for a surf wave attraction underneath the wire.
Responding the civic society's concerns, councillors said the location was appropriate for "leisure development" and that the zip-wire "would not be in use at times of adverse weather".