Dorset County Museum gets new £5m extension plans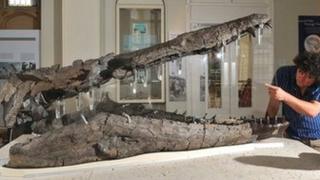 Historical artefacts from Dorset's past are set to go on show in a planned £5m extension to a 19th Century museum.
Dorset County Museum has announced plans for a new learning centre in its Dorchester building.
The museum's collection includes prehistoric finds as well as Roman artefacts and the archive of writer Thomas Hardy.
Trustee Paul Atterbury said the museum holds "one of the great national collections".
Mr Atterbury said it was hoped the work would boost annual visitor numbers from 45,000 to about 100,000.
"Our job is to make it accessible to a much wider market - this will be one of the best visitor centres in the south west," he said.
The museum which is owned by the Dorset Natural History and Archaeological Society, is one of the oldest privately-owned attractions of its kind.
The three-floor extension to the 19th Grade-I listed building in High West Street would allow the society's full collection, some of which is currently in storage, to be brought together for the first time.
It would showcase existing exhibits including the 2.4m-long pliosaurus fossil, thought to be the biggest ever found, along with skeletons unearthed from a burial pit on the site of the Weymouth Relief Road in 2009.
The new-look museum would also house a conservation laboratory.
A fundraising appeal has now been launched.