Solar farm approved for Richard Drax MP's family estate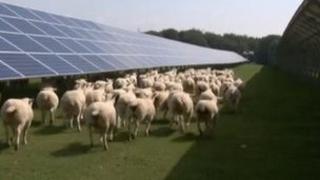 Plans to create a 175-acre solar farm on the family estate of South Dorset MP Richard Drax have been approved by East Dorset District Council.
More than 120,000 panels will be installed by Good Energy at the Charborough Estate, near Mapperton.
Opponents, including the Campaign to Protect Rural England (CPRE), argued the undeveloped, agricultural land was the wrong location for a solar farm.
Good Energy said the scheme would generate enough power for 6,000 homes.
'Artificial intrusion'
After a split vote, six votes for and six against, the chairman of the planning committee opted to pass the application for a temporary change of use from agricultural land to agriculture and solar photovoltaic farm.
The permission will last for 30 years.
The land, in between the 2.65m-high (8ft 7in) solar panels, will continue to be grazed by sheep.
The CPRE said the solar park on the greenfield site would be "particularly damaging" and a "large, artificial intrusion into beautiful, sensitive countryside".
Richard Palmer, of Good Energy, said the site was well screened and away from homes.
A statement issued by the Charborough Estate before the planning meeting said: "The opinion of the local community was sought prior to submitting the application and will continue to be incorporated.
"The site is well screened. At the end of the project the land will return to the existing agricultural use."
The scheme is expected to begin generating electricity as early as April 2014.
Mr Drax was unavailable for comment.