Durlston sea cave death woman was ex-navy reservist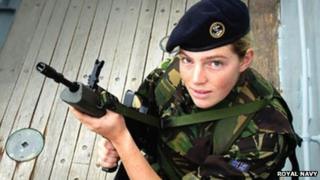 A woman who died in a sea cave in Dorset was a former Royal Navy reservist whose image was used in promotional material.
The parents of 30-year-old Charlotte "Buffy" Furness-Smith confirmed the loss of their daughter to the Evening Standard newspaper.
Ms Furness-Smith was a maths teacher at Bristol Free School.
Her parents Patricia and Charles Furness-Smith from Buckinghamshire said they were devastated by their loss.
In a statement, Ms Furness-Smith's godfather Jon Coles called her "a wonderful girl with an engaging personality and a fabulous friend to all".
Mr Coles told the Evening Standard: "She was a dedicated and vivacious teacher who loved the outdoor life."
Blow hole
Rescue teams have been unable to find the body of Ms Furness-Smith, who died in a cave at Durlston, near Swanage, a week ago.
A companion who had been swimming with her raised the alarm.
But gale-force winds and rising tides prevented rescuers reaching her because she had become trapped in the cave.
Swanage coastguard search and rescue team said the only ways to reach her were either under water or though a narrow blow hole at the top of the cave.
The rescue was considered to be at the "very edge of our technical capability", said a spokesman.
Eventually a cliff expert went in through the blowhole showing "exceptional courage", but it was clear Ms Furness-Smith had not survived.
The rescuers decided it was too dangerous to try to recover her body at the time and it has not been found since.
Dorset Police said they could not identify the woman until a body had been found.