Bournemouth coastal erosion plans 'to protect 3000 homes'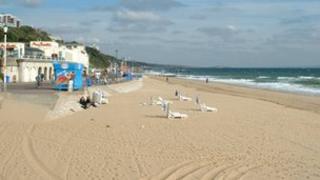 Thousands of homes and businesses at risk from coastal erosion in Bournemouth could be protected under new plans being considered by the borough council.
The five-year plan would safeguard more than 3,000 homes and about 100 businesses, the authority said.
Plans include replacing timber groynes on the beach and at Hengistbury Head.
Works will mainly be funded by the Environment Agency, with an 18% contribution of £1.9m from the council.
The coastline surrounding Bournemouth is eroding at a rate of a metre (3ft) a year, according to Bournemouth Borough Council.
'Catastrophic consequences'
The authority said 16 of the 51 groynes along the beach, built between 1984 and 2004, had already reached the end of their "useful life".
It added that a 70-year-old, 150m-long (500ft) groyne at Hengistbury Head had been damaged in recent years and was also reaching "life-expiry".
Mike Holmes, service director for planning, transport and regulation at the council, described the work as "essential".
"Without this programme of work, coastal erosion will progressively remove the beach, destroy the seawall and groynes and restart cliff erosion leading to the destruction of coastal properties over the next 100 years," he said.
"The consequences would be catastrophic for Bournemouth."
The authority's cabinet will discuss the plans on 13 November and if accepted work could start in October 2014.