'Oldest paperboy' Ted Ingram retires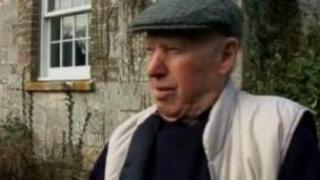 A 93-year-old man, credited as the world's oldest paperboy, is retiring from his paper round after 71 years.
Ted Ingram claims to have delivered more than 500,000 papers in Winterborne Monkton, near Dorchester, Dorset, since 1942.
Mr Ingram said: "My knees are quite bad - it's time to give it up."
His daughter Angela Matthews said the whole family were "really proud" of his achievement.
Mr Ingram decided to boost his tractor drivers' income by taking up a paper round aged 22.
At the peak, he delivered 50 papers a day, but he said that had dwindled to eight and the round was no longer financially viable.
Mr Ingram, who recalls delivering newspapers reporting landmark events such as the end of World War Two and the Queen's Coronation, appears in the 2013 Guinness Book of Records.
"The job hasn't changed, just the people," he said.