Swan shot at Throop Mill Pond in Bournemouth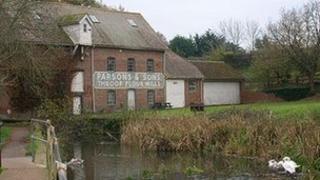 A swan has been shot dead at a beauty spot in Dorset.
Police believe a firearm was used to kill the bird at Throop Mill pond in Bournemouth, between 16:35 and 16:45 GMT on Monday.
It is the second swan to be killed there in eight months. Another was shot with a crossbow in March.
Officers want to talk to a group of four men and one woman seen nearby at the time of the attack, with a white lurcher and a small terrier-like dog.
PC Gemma Wallbridge, of Dorset Police, said: "This is an extremely callous and heartless crime.
"It is not clear at this time what weapon was used, but it is believed to be a type of firearm and a popping sound was heard at the time of the incident.
"A number of people were around in the area who may have noticed some suspicious activity."
She said she believed the group of four may be able to help with the investigation and urged them to contact police.
The RSPCA is assisting police with the investigation.
On 27 March a pair of swans were attacked with a crossbow at Throop Mill, a site popular with dog walkers and fishermen.
The female died two days later while the male needed emergency surgery to remove part of the bolt which was lodged in its rib.
Swans are protected birds and the Crown retains the right to ownership of all unmarked mute swans in open water.
Killing or injuring them is punishable by a six-month prison term and/or a fine up to £5,000.